Welcome to Teddy's Transport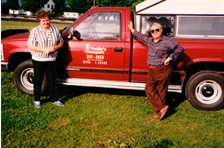 You don't need it there soon. You don't need it there fast. You need it there NOW. Then NOW is the perfect time to contact Teddy's Transport. Across town or across the country, Teddy's Transport offers nationwide expediting service available 24 hours a day, seven days a week.
Teddy's Transport was founded by Ted & Mary Gibbs in 1982, in Hamilton, Michigan. It started as a local pickup & delivery service for industrial manufacturers.
Ted & Mary started with only two pickup trucks and an answering service. Teddy would rent larger trucks if one was required. Teddy would also help customers with their industrial shows. He would, for example, bring their trade show exhibit to Cobo Hall and help them set it up and tear it down.
OUR MISSION
" Glorifying our Heavenly Father by providing outstanding logistic services while positively impacting our community and the world."
Our Values
Hard work and continued improvement
Integrity in all our relationships
Respect for each individual
Excellence in all areas of customer service